H&M Nailed These Major Trends With Its New Collection & Shoppers Can't Get Enough
H&M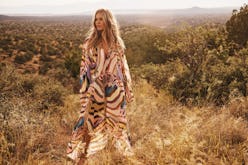 The transition from winter to spring will always bring a number of things to look forward to as the year inches closer to summer: warmer weather, upcoming vacations, and of course, new trends. Rather than having your thoughts focused solely on staying warm and bundled up, you can now start thinking about the trends you're planning to wear for the next season. However, if you aren't entirely sure where to start, H&M's Studio Collection will give you a good idea.
As with every season, trends come and go, but along with the ones that only last a season or two, there are others that withstand the test of time. H&M's latest collection has highlighted which ones are worth investing in — and they're good. From everyday neutrals that can be worn during any time of the year to cool, sportswear-inspired pieces that are worthy of an Instagram, it's safe to say that the popular retailer has aced the biggest trends for spring and summer. And, with the most expensive pieces priced under $200, it's accessible, too. But you better act fast — some parts of the collection have already sold out.
Zebra Print
As arguably the biggest trend of the season, it's only natural to incorporate animal prints into your summer wardrobe. Only this time, instead of leopard or snake prints, it's all about zebra stripes. For those who prefer a more neutral approach to the trend, opt for the brown Zebra-Striped Dress, $129, which will look amazing with a pair of white pumps or black strappy sandals. If you want to go with the cool, poolside look, you won't go wrong with the One-Shoulder Swimsuit, which is available for $39.99.
Earthy Neutrals
Rather than the cream and ecru hues that accompany dark shades of navy and black for winter, this season's neutrals take on a warmer, earth-toned color palette. Think of these Linen-Blend Pants as a modern take on khaki trousers. If you're vying to wear something bolder, go for this warm brown Short Polo Shirt (which also highlights the returning trend of prep-school pieces) as a more modern approach to the neutrals of your past.
Disco Details
Despite the fact that the '70s seem to be reinvented nearly every other season, H&M's collection has a few pieces reminiscent of one particular area of the iconic decade: disco. From the glitzy Sequined Skirt ready for a night out to the Patterned Dress, $199, featuring a psychedelic print, to a prairie-inspired dress featuring a ruffled neckline, these pieces will have you in the mood for everything, whether it's enjoying a a night out or lounging at a picnic.
Modern Sportswear
For those of you who plan on taking advantage of the warm weather and spending it staying active outdoors — and even for those who want to live these next few months in peak comfort — this collection has pieces for you, too. Style this Detachable-Hood Sweatshirt over your favorite leggings or with a pair of denim shorts. On the warmer days, let this Ribbed Tank Top with Lace be the statement of your outfit for a casual touch of cool this season.
Now, scroll down to see more of the must-have pieces from the collection. You can start planning your summer wardrobe and take on the biggest trends of the season in the chicest way.
Shop H&M's Studio Collection