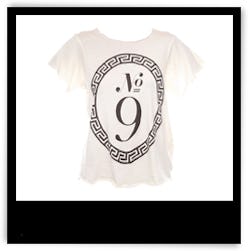 Trends come and go, but one thing you can count on to never go out of style is the trustworthy graphic tee. A particularly sought-after look this season, we singled out a handful of our most-wanted picture shirts for you to shop today. All priced under $100, they are guaranteed to inject some cool-factor into your daily duds.
WILDFOX COUTURE, Nove Handmade Tee, $73
Executing an off-duty look is made easy with this softly chic shirt.
AllSaints, Bouquet T-Shirt, $65
We love the darkly romantic feel of this vintage-inspired tank, which features a sweet motif of flowers and stars.
Chaser Constellation, Pink Floyd Tee, $54
You're never too old to rock a band tee. Unleash your inner groupie with this classic Pink Floyd top, designed in soft jersey with an uneven hem for an effortless effect.
Topshop, 'Couple' Graphic Tank, $36
Fall's coveted burgundy hue frames a black and white image on this sleeveless shirt for a modern look.
J.Crew, Printed Burnout-Jersey T-shirt, $42
With this printed necklace tee, you can skip the statement baubles while still appearing accessorized, or pile them on for a layered look.