Graphic Tops We Love For Summer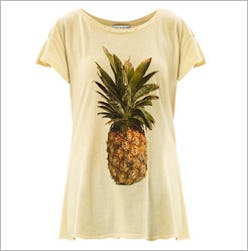 You can never have too many graphic-print tees to your name. Whether worn casually on the weekend or dressed up for a night out (hint: just add dark jeans, a leather jacket and heels), they offer an easy answer when you're stumped on what to wear. Here we have a few of our favorite screen-print shirts that are perfect to throw on over your swimsuits all summer!
Wildfox Pineapple T-Shirt, $84
Wear your heart on your sleeve—or in this case, your fruit! From Wildfox, this super-cute pineapple top is a fun pick for your next beach day.
Brian Lichtenberg Féline T-Shirt, $60
Adored by Cara Delevingne, Brian Lichtenberg's fashionable slogan tees are clearly at the top of our wish list—especially this meow-factor one!
Bobo House Starry-Print Top, $150
Staying surfside until the sun goes down? Throw on this graphic-print pullover and we promise you'll stay cozy for hours.
J.Crew Vintage Cotton Tee, $45
Your favorite jean cut-offs have met their match when paired with this cool aquatic themed shirt.
Topshop Cutoff Tee, $32
Sans sleeves for scorching summer days, this edgy photo-print pick is a great option to rock to a music festival.
Zara Girl Print T-Shirt, $30
Complement the punchy colors of this sleeveless tank with an equally bright and chunky necklace for a summertime look that turns heads.
Proenza Schouler Printed T-Shirt, $250
Feminize Proenza's boyish tee by pairing it with sky-high heels, slim-fitting denim and a tall stack of bracelets.
Chaser Blondie Top, $62
Fans of Debbie Harry's tunes and radical style will instantly adore this off-the-shoulder tee.