Follow Friday—Meet Grace Atwood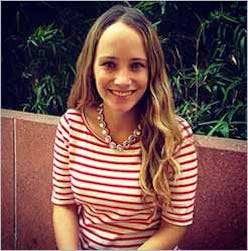 Miss Atwood look familiar? Perhaps you recognize her from our DIY series, her wildly-popular blog, Stripes & Sequins, her position manning the social media front at BaubleBar or just from being a girl-about-town in NYC! Get to know more about Grace, her penchant for DIY & some summer entertaining tips to boot!
The Basics:
Grace Atwood, Stripes & Sequins, Author, NYC, Libra—also serves as the Director of Social Media for BaubleBar.com.
What do you love most about DIY projects? All-time faves?
"It allows you to make something customized to be exactly what you want! Love the collabs I've done w/ Lulu Frost & Holst + Lee, and I wear this necklace + clutch constantly."
Easy "starter" DIY projects?
"I love these friendship bracelets & this necklace. The necklace looks intimidating, but when you break it down it's actually very easy. I think that's the key to DIY—taking things slowly, step by step."
Tips for aspiring social media mavens:
"Read Mashable, Fast Company, & Business Insider daily. Social media is always changing—you have to stay current. Having a great voice & loving fashion & blogs is not enough, you have to stay up on the tech stuff too."
Daily reads:
"Oh my goodness, there are so many! The ones I never miss are Honestly WTF, Cheetah is the New Black, Could I Have That, vmac+cheese, and then sites like Style.com, WhoWhatWear, and Fashionista."
What are you giving as hostess gifts this summer?
"I love these wine totes from Society Social as hostess gifts. How cute is the "Gin & Juice" one? And you can never go wrong with a great candle! Diptyque Mimosa is a favorite of mine."
For home entertaining:
"Fresh flowers, a bottle of red + something chilled, an assortment of cheeses from Murray's—I always have candles lit, and pretty coasters on the table. To end the night, a sweet treat is a must!"