Glam Party Pointers From The Pam & Gela Designers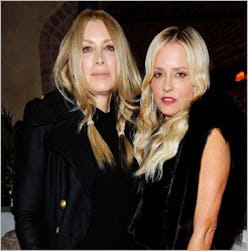 In addition to shutting it down in the wardrobe department, fashion insiders know how to throw a party. Today, the uber-cool duo behind Pam & Gela (formerly Skaist-Taylor), Pamela Skaist-Levy and Gela Taylor-Nash, share their glam tips for hosting a killer seasonal soiree!
P.S. Don't forget to show us how you style your space on Instagram and Twitter using #LivingInStyle.
Gela Nash-Taylor and Pamela Skaist-Levy, Designers of Skaist-Taylor
"A great party has to be many things - above all super fun. When we throw a party, we love to create a visual feast...starting with amazing flowers and candles, then adding a layer of an incredible scent that transports you to somewhere exotic, and finally serving a dangerous supply of drinks and yummy, easy food."
Fred Cool Shooters Shot Glass Mold, $10
"We recently discovered these magical iced glasses. You can freeze them with beautiful mint leaves, berries or anything that you have in your garden; fill them with water, pop them in the freezer and in four hours, voila, mini shot glasses made of ice. Tons of visual for about $10 for a set of four. Serve them on a small plate with fresh lime."
Casamigos Tequila, $50
"We fill the iced shot glasses with our favorite tequila Casamigos. Founded by George Clooney, it is smooth and totally affordable. Beautiful bottle too."
Cire Trudon Candles ($85) and Nag Champa Incense Sticks ($8)
"When it comes to creating a vibe, we love to layer scents. We mix any Cire Trudon candle with a layer of Nag Champa incense. The incense you can find at any Whole Food's store. People always think it's a really expensive room spray, but the incense that are under $4 are the thing people always ask me about. They smell insane with or without the Cire Trudon. If you are on a budget, use clear votives and Nag Champa."
Single variety arrangements by Magdalena's Flowers
"Flowers are our passion. Sometimes we pick something from my garden or go for a super decadent theme...but the one tip I recommend is to use one type of flower. Ilga Magdalena does my house flowers and very special events. She is amazingly talented and a super-cool chick. Her company is Magdalena's."
Indian cuisine takeout from Taste of India
"Sometimes we do a fancy holiday menu, but one of our favorites is takeout food from a local place, Taste of India. Almost everyone loves Indian food and they have tons of vegetarian options...you can make takeout look great if it's plated beautifully."