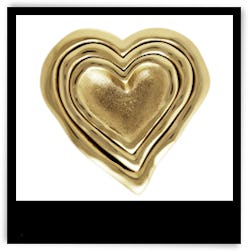 Still have stylish individuals left on your list to shop for? We'll hold back our scolding in favor of pointing you to a handful of brilliant buys curated by Aerin. Caution: You may be tempted to pick up a thing or two for yourself!
AERIN, Nesting Heart Dishes, $240
"The Nesting Hearts can be used all together as a decorative item or you can use them individually."
Pool Reflections by Kelly Klein, $100
"Not only is Kelly a great friend she also has impeccable taste. It has stunning photographs."
Ladurée, Macarons, $36
"Macaroons are one of my favorite guilty pleasures. This limited-edition 70's collection box reminds me of Rachel!"
AERIN, Trumpet Vine Candle, $58
"Candles make great Christmas and hostess gifts. The box is very decorative on its own, so there is no need to wrap."
J. Crew, Liberty Pajama Set, $198
I love this Liberty print. A pretty alternative to the traditional pajama set.