How Team Zoe Is Stepping Up Their Spring Style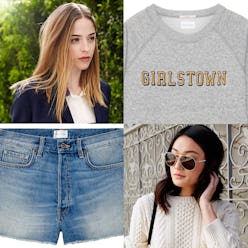 The dawn of a new season marks the opportunity to reassess (and elevate) one's sartorial strategy for the months ahead. A perfect match for the varsity-inspired hero pieces in GANT Rugger's Spring/Summer 2015 collection, we turned to two of our fabulous Team Zoe interns to show off how they're stepping up their style for spring. Maintaining an intentionally laid-back vibe indigenous to sunny SoCal style, interns Amelia and Amy mixed and matched separates rendered in worn-in denim and luxe silks for a city-savvy approach to casual dressing. Perfect for taking to the town with an air of leisure, see how Team Zoe navigates Los Angeles in style wearing GANT Rugger, and enter for your chance to win a $1,500 shopping spree from the brand for yourself!
How Team Zoe Is Stepping Up Their Spring Style
Photos: Andrew Stiles
Amy's Look: Blazer Babe
"A distressed boyfriend jean combined with something tailored always looks amazing. It's the ideal (sartorial) marriage between serious and casual."
Shop Amy's Look
Dress down your tried-and-true suiting separates with a worn-in pair of boyfriend jeans.
Amelia's Look: Varsity Chic
"This look is a great daytime ensemble for those busy days when you need something relaxed and comfortable, yet cute at the same time. Plus, the bomber adds a totally cool, retro vibe."
Shop Amelia's Look
Channel Amelia's ensemble with a retro-inspired track jacket, graphic pullover and distressed denim.
Amy's Look: Laid-Back Prep
"The shirt and trousers are smart (and timeless) separates that any twenty-something woman should have in her closet. Throwing a casual sweater over this look makes it appear less buttoned-up—plus, comes in handy in case you get cold!"
Shop Amy's Look
Keep the look prepster-cool on your next coffee outing with a pajama-style button-down, tailored trousers and a fisherman sweater.
Amelia's Look: Retro Cool
"The high-waisted shorts and cotton tee keep this look low-key, but the blazer really dresses it up and makes it chic for a variety of occasions. It's definitely perfect for a day out with friends."
Shop Amelia's Look
Inject spring's '70s trend into your next off-duty look with a pair of denim cut-offs and a chest-stripe polo topped with a crisp blazer.
Amy's Look: Off-Duty Luxe
"The shirt skirt is a such unique piece for spring—pairing it with a fisherman-inspired sweater adds a casual, off-duty vibe that's totally wearable but cool."
Shop Amy's Look
Get Amy's look by teaming a cable-knit sweater and crisp cotton skirt with your favorite suede booties.
Elevate Your Spring Style With A Gant Shopping Spree
We've shown you our take on casual-cool spring style—now, enter to win a shopping spree to elevate your own wardrobe for the season from Gant! Click here for entry details.