The 7 Essential Components Of A Fab 4th Of July Party
by Pamela Skaist-Levy and Gela Nash-Taylor
Melanie Tremblay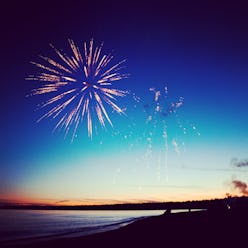 Who better to help you entertain in style on the 4th of July than Pamela Skaist-Levy and Gela Nash-Taylor, arbiters of modern American style? Today the designer BFFs share their essential tips for a fabulous, stress-free and budget-friendly gathering on the beach or elsewhere.
Get Pam & Gela's Entertaining Tips
"Cheers to having the freedom to follow our hearts and passions in style! Have fun and be safe this 4th of July!" -Pam & Gela
1. Find The Fireworks
"We all know the most important element of a great 4th of July party is the fireworks show! Find out where your best local show is and plan your day around it. We absolutely live for the show at Malibu Colony and are fortunate that the barge sits right out in front of Pam's house there. You don't have to live on the beach to make it spectacular. Find an awesome park near a show and hunker down to an amazing picnic dinner with friends as the sun sets."
Photo: Courtesy
2. Plan A Fresh & Easy Menu
"Keep it super simple and fresh when it comes to food. The 4th of July is meant to be fun and carefree. Ditch the reservations and heavy dinner party cleanup so you can enjoy yourself! We always go to our local farmer's market in the morning and pick out whatever looks fresh and bright. A few easy items we love: heirloom tomatoes drizzled with olive oil and sea salt, fresh fish kebabs grilled down at the beach (our fave local place is Malibu Seafood), and fruit for dessert (it's OK if you want to soak some in vodka, too)."
Photo: Courtesy
3. Get Creative With Your Cocktails
"We never waste anything! Those leftover limes you thought you'd use for the fish kebabs? Dip the edges in salt and use them for tequila shots! Our favorite is Casamigos. We also love to do fruit popsicles made with champagne and fresh juices from Pressed Juicery. Just make some without champagne for the kiddos."
Photo: Courtesy
4. Set The Scene
"Remember, the key to a fabulous 4th of July party is keeping things chic, cool and simple. There are a ton of ways you can decorate without spending a fortune. We'll dress up a picnic table and benches by throwing a beautiful tablecloth over it, then add fresh cut flowers from the garden along with mason jars with sand and votives inside. To keep it casual, we'll pop down to Olvera Street in downtown Los Angeles and buy a bunch of Mexican blankets to throw on the ground for kids and grownups to lounge on."
Photo: Courtesy
5. Wear Something Casual-Luxe
"You still need to look amazing, so rock a fun, floaty dress or jersey separates. The new track suit from our spring collection is perfect for a causal 4th of July party on the beach. Just add amazing sandals and beachy hair and you're good to go."
Photo: Courtesy. Pam & Gela High Low Sweatshirt, $165; Basic Fleece Pants, $165.
6. Put Together A Chill Playlist
"What's a party without a playlist? Here's a great mix for that backyard BBQ or beach party featuring mason jar cocktails and pendant lights. This is fun, ambient music that highlights everything we love about the holiday."
Because, The Beatles
California, Joni Mitchell
L.A. Woman, The Doors
You Don't Own Me, Lesley Gore
Ode to L.A., The Raveonettes
Son of a Preacher Man, Dusty Springfield
Girl, You'll Be a Woman Soon, Urge Overkill
You're No Good, Linda Ronstadt
Photo: Courtesy
7. Find A Insta-Friendly Game
"Call us cheesy but we think lawn games are a fun way to start cocktail hour (they also make for good Instagram pics). Try boccee ball, a ring toss or Frisbee."
Photo: Courtesy