Follow Friday—Kelly From Kelly Golightly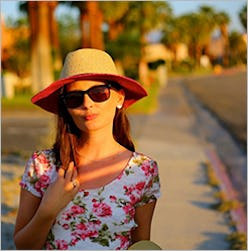 Like she just stepped out of a modern day Breakfast At Tiffany's, Kelly—who blogs under the name of Kelly Golightly, but of course!—is every bit the charming lady and a spitting image of Ms. Hepburn herself! Her site is full of prim outfit posts (her hat collection is next level), entertaining ideas and home decor inspo. A pure delight, for all things W.W.A.D. (What Would Audrey Do), add Kelly Golightly to your blogroll!
The Basics:
Kelly Lee, Beverly Hills & Palm Springs, CA
Her 5 summertime essentials:
An oversized sunhat, Dr. Pepper lip balm, a vintage picnic basket, a Trina Turk ice bucket and a smashing cocktail!
Currently coveting...
A vintage peacock chair; a Slim Aarons 'Poolside Gossip' print; a Kelly Wearstler soufflé cocktail chair
Her style in 5 words:
Audrey Hepburn meets Kelly Wearstler.
5 songs she's streaming at the moment:
"The Race Is On" by Blacks& // "We Are Young" by Fun ft. Janelle Monae // "I Will Wait" by Mumford & Sons // "Moves Like Jagger" by Maroon 5 // "Empire State of Mind" by Jay-Z