Follow Friday—Camille From Camille Over The Rainbow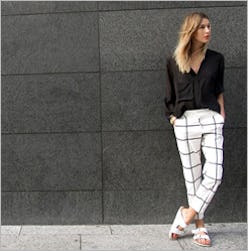 Somewhere over the rainbow, or rather between London and France, we discovered a blogger that emulates the parfait balance between Parisian chic and Brit edge. Meet Camille from Camille Over The Rainbow, the trendy London-based, half-Brit half-French style maven who started her fashion-journal-turned-addictive-blog while studying abroad in the UK. The trendsetter has a knack for taking quintessential staple pieces (think lots of black and white) and transforming them into expertly-edited outfits that ooze sophistication. Keep this lady on your radar—we expect big things from Camille!
The Basics:
Camille Charrière, 25, London
What she's currently coveting:
A Chanel Boy bag, a pink coat for fall (Celine & Rochas, pictured) and a pair of Vans.
Her style in 5 words:
French, effortless, graphic, chic and wearable
Her home entertaining essentials:
A stocked bar and a chilled attitude!
Items in her wardrobe she couldn't live without:
Celine espadrilles & Joseph leather leggings (both pictured), slouchy tees, black blazer and boyfriend jeans.