Follow Friday—Bethany From Snakes Nest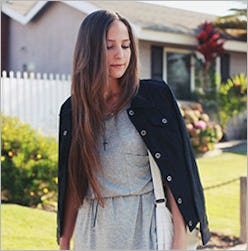 What first drew us to Bethany were those insane baby blues—mesmerizing eyes and a gorgeous face to match! Factor in her effortless sense of style, fantastic photography and a head of hair that would make Rapunzel jealous, Snakes Nest turned into a regular read. Her simplistic, minimalist approach to dressing is anything but snoozy—rather, the artful pairing of subdued pieces in muted colors serves as inspiration to the every girl on how to achieve that "how to look gorgeous without really trying" look. Find out more about Bethany below, and don't forget to add Snakes Nest to your blogroll!
The Basics:
Bethany, 20, Los Angeles.
Her 5 summertime essentials:
My summertime essentials are Levi's cut off shorts, a loose white blouse, aviators, my face sunblock (I use Elta MD), and dainty gold jewelry.
Currently coveting...
The corded floral moto jacket by 3.1 Phillip Lim, the red silk wedge pumps by Burberry, and the Balenciaga brass headpiece.
Her style in 5 words
Simplistic, classic, comfortable, effortless and versatile.
5 songs she's streaming at the moment:
"Tessellate" by alt-J, "Myth" by Beach House, "Young and Beautiful" by Lana Del Rey, "1000 Sundowns" by Emma Louise and "Chocolate" by The 1975.