Follow Friday—Meet Amber Venz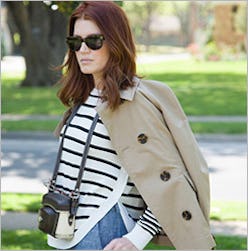 Entrepreneur. Blogger. Fashion expert. The list of impressive adjectives seems endless when referencing Amber Venz, president of rewardStyle—an invitation-only monetization platform for top tier style publishers around the world…aka, every blogger's best friend. Founded in mid-2011 by Amber & her main squeeze Baxter Box, the company now has more than 35 employees between its two offices: Dallas and London. Beauty and brains…doesn't get better than that.
The Basics:
Amber Venz; President & Co-Founder, rewardStyle; Based in Dallas; Sign - Cancer
When did you come up with the idea to start rewardStyle?
"I started my style blog in April 2010 as a supplement to my personal shopping business. Unfortunately (I thought), my personal shopping customers began to shop from my blog..."
When did you come up with the idea to start RewardStyle? ctd.
"I quickly realized that I needed to monetize my online expertise in the same way that I had done offline—earning an income by identifying & styling products."
Favorite part of owning your own business?
"There are two things about my job that I love: the people that I meet & the places that I travel."
In heavy rotation for summer:
(1) Balenciaga Cut-Out Boots; (2) Celine Sunglasses; (3) Yellow Celine Trio Bag; (4) Zara Angular Skirt (pictured)
Previous gigs:
College—Southern Methodist University; Concept Store Manager/Store Buyer; Jewelry line founder & designer; Thakoon global wholesale intern & fit model; Freelance stylist in LA
Daily reads:
My own blogs (VENZedits.com, TooGoodToShare); Instagram junkie (@venzedits); BusinessofFashion.com
Style philosophy breakdown:
Minimal, architected, monochromatic, luxury accessories/high-street fillers, clean, uncluttered.