It's Official: The Flightsuit Is This Season's It Jumpsuit
© KCS Presse / Splash News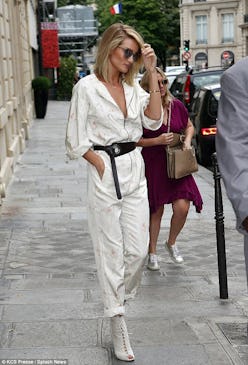 The jumpsuit will always be a chic alternative to an evening gown or cocktail dress but it can also replace daytime staples like jeans, especially when rendered in a utilitarian, not-too-fussy cut. Enter: the flightsuit. This slouchy, menswear-inspired take on the jumpsuit is popping up everywhere these days. Here, three standout examples and how to wear them IRL. Consider this staple your secret weapon against the end-of-summer daytime wardrobe blahs. Cutoff shorts, we're looking at you.
Feminine
Take a cue from Rosie Huntington-Whiteley and make an oversize suit more flattering by rolling up the sleeves, unzipping the neckline, cuffing the pants and adding bombshell-worthy accessories to complete the look.
Get The Look
Functional
Stylist Anya Ziourova gave this utilitarian suit a glamorous spin with a beaded statement necklace and classic low-heel pumps. Pro-level move.
Get The Look
Menswear-Inspired
A feminine clutch and lipstick red platform heels give this menswear-inspired style a chic, French-girl spin. Take a cue from Elisa Sednaoui and opt for messy, just-got-out-of-bed waves to amp up the sultry vibe.
Steal The Style