Rodger's Picks For Father's Day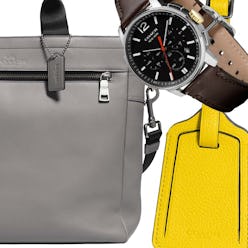 When it comes to dads, Rachel Zoe's husband and President of Zoe Media Group, Rodger Berman, is one of the most fashionable guys we know. Being perpetually styled by RZ, Rodg obviously looks sharp 24/7 and is constantly catching the eye of our fashion editors with his cutting-edge accessories game. Yeah, we kind of want all of his man bags—they're that good. Since Coach is the mecca of chic leather goods, we got Rodger to pick his favorite items. The list of 12 lovely gifts—ranging from a modern briefcase to a gorgeous motorcycle jacket—are luxuries every dad would appreciate.
Classic Father's Day Gifts
"For anyone that travels frequently, leather ID tags are a great gift—I get bright colors so I can easily recognize my luggage at bag claim."
"This bag is the modern briefcase—I have one in black and brown."
"I keep these leather bound sketch pads on my desk and bedside table so I always have a place to jot down notes."
"Rachel said I needed a bomber jacket—she was right, as always—I basically live in this one."
"If you're buying a watch for a dad, go for a classic shape—a chronograph will never go out of style."
"I use nice leather dopp kits to hold all my tech gear like cameras and chargers—that way everything is in one place when I need it."
"For weekend trips to Malibu or the Hamptons, this duffel is ideal—it fits a lot, but isn't too cumbersome to travel with."
"This is the perfect black belt—I wear mine almost every day."
"This iPad case is great because it has enough room to stash the charger and cords so everything can be stored together."
"Literally every person at my office has a cool motorcycle jacket—I had to get one just to fit in."
"I keep a picture of my sons Skyler & Kaius in my wallet—adding a personal photo makes a simple wallet a really sweet gift."
"My whole life fits in this bag—and gray goes with everything."