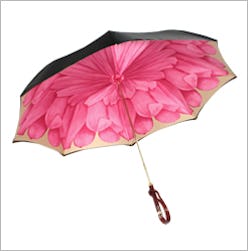 Showery days on the horizon? Seize the chance to flaunt a fashion-forward parasol, and you'll stand out in a sea of black umbrellas.
illesteva, $250
Though it appears classic on the outside, this umbrella will catch onlookers off guard in the best way with its hidden floral design.
Burberry, $325
Burberry's striped shield will break up a monochromatic outfit, and not to mention a dreary day, with a sunny dose of color.
Marc by Marc Jacobs, $58
With a cool checkered design, this designer parasol is a no-brainer to carry instead of your traditional black umbrella.
J. Crew, $27
Budget-friendly and chic, this sailboat-print umbrella is conveniently compact in size to easily stow away in your handbag.
Weston, $115
Add an artful touch to your drizzly day ensembles with this cool multi-hued cover.