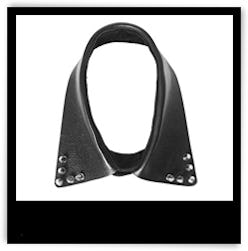 With an innate penchant for punk-chic ensembles, your Team Zoe editors are obviously drawn to anything with studs! Check out our of-the-moment assortment of adorned selects here, then work them into your fall ensembles to spike out (and not strike out) all season long.
ASOS, Pointed Stud Leather Collar, $27
The new "statement necklace", reach for this studded leather collar to offset a crisp white button-up brilliantly.
Rebecca Taylor, Nailhead Tee, $245
A glamorous take on your basic tee silhouette, Rebecca Taylor's silk top features studded sleeves for an impactful look.
Zara, Studded Ankle Boots, $100
Gold pyramid studs impart just the right amount of edge into these suede booties for a sophisticated yet striking outcome.
Textile Elizabeth & James, Cropped Skinny Jeans, $248
Unleash your inner rocker by slipping into these black cropped skinnies—their sharp silver embellishments give the illusion of a belt!
Rebecca Minkoff, Bridal Skylar Crossbody Bag, $325
Drape Rebecca Minkoff's studded neon satchel over your shoulder and you'll shock life into any ensemble; we think it's destined to spend a night out on the town.