Stylish Stationery From Smythson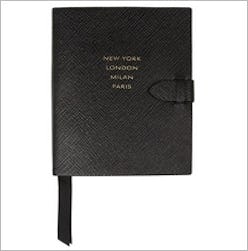 Just in time for NYFW (we can't wait!), Smythson tempted us with an ideal, trusty sidekick for the always prepared, editor on-the-go, or for those who simply live, breathe and write in style.
Made specifically for note-taking along the catwalk sidelines, Smythson's Fashion Week-inspired journal comes equipped with lined pages featuring show-specific categories to assure your inspiration and thoughts are kept carefully organized. Better yet, the front cover pays chic homage to fashion's four biggest cities through opulent, gold lettering. Tuck this posh pick into your handbag for pre-show preparation—and don't forget your pencil!
Availability: Smythson Runway Textured-Leather Notebook ($135).