The Stylish Art We're Hung Up On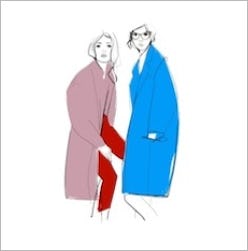 Even if you're not on collector's budget, you can still decorate your home or office with stylish art that'll make a big impact. Here are some pieces we can't wait to add to our arsenal, all under $500.
Goyards ABC, by Libby Black, $136
You're never too old for an alphabet refresher – especially if it's from Goyard.
Vintage Magazine Cover: Bridget Bardot, by Cate Parr, $300
Inspired by a men's magazine cover from the '60s, this watercolor is a modern take on the classic beauty.
Real Beauty, by Jessica Craig-Martin, $150
Bring a bit of street style into your casa with this candidly chic snap.
Chateau Marmont, by Gia Coppola, $320
There is no place quite as fabulous as The Chateau, and here's proof.
Hairbursh Print, by Anna Rifle Bond, $24
Who knew a beauty cabinet staple could be so stunning?
Kiss, by Kathryn McFarlane, $41
Give guests something to talk about by hanging this in the powder room.
Chanel Nail Polish, by Martha Muthoni, $10
Costs less than an actual bottle, and lasts forever!
Early Winter, by Garance Dore, $400
Sure, she's a sharp shooter, but did you know the blogger's also talented in the sketching department?
1 Look – 3.1 Phillip Lim P/F 2013, by Leigh Viner, $295
Can't make it to the tents this Fashion Week? Luckily, this illustration will bring the runway to your hallway!