FRAME Just Released An Early Fall Drop — & Fashion Insiders Are In Love
French-girl style for cool-girl temps.
Frame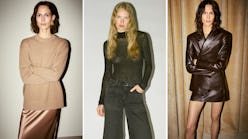 We may receive a portion of sales if you purchase a product through a link in this article.
While it may seem incredible, summer is already coming to a close — and it's time to turn our attention to shifting temperatures along with the transitional wardrobe they require. Thankfully, FRAME Denim has dropped a fall collection filled with crave-worthy silhouettes to take you from warm weather to cool in as chic a manner as possible. FRAME has been dishing out cutting-edge designs for years, and this latest crop is no exception: Tonal neutrals and elevated materials are rendered in downtown silhouettes, giving quiet luxury a much-needed edge.
About The Collection
Since FRAME is best known for denim, insiders will want to pay extra attention to a pair of barrel-leg jeans with an ultra-high waist — assuming you don't already own their best-selling palazzo jeans, that is. And there's an achingly on-trend denim midi skirt that you'll all want to wear as an autumn uniform. You'll also find standout pieces like a sheer lace turtleneck alongside a silk mini dress that can handle whatever assignment your weather app throws your way. Classics include a desk-to-dinner silk shirt and crewneck sweaters in luxe cashmere that you'll keep forever — and wear with everything in your closet. Scroll on for a first look at the best in show from FRAME.
1. An On-Trend Denim Midi Skirt
A denim skirt is probably already on your shopping list, and this one features irresistibly special elements like a split front and angled seam, all in a body-hugging silhouette. The open front will make striding in the slim-cut, rigid denim a little bit easier — and you can show off the tall boots you'll want to pair with it, without disrupting the balance of your outfit.
2. The Day-To-Night Silk Mini Dress
There are myriad ways to style the Gillian dress, but whether you pair it with leather trousers (like the cropped pants that are also on this list), or layer it with a fitted turtleneck and a pair of tall leather boots — or, of course, solo with some strappy heels — it'll make a gorgeous statement in luminous 100% silk. The subtle puff sleeves and ribbon-tie waist are dainty, structured details guaranteed to elevate all your transitional weather ensembles.
3. A Lace Mesh Turtleneck You Can Wear So Many Ways
The mesh lace turtleneck from this collection will stay at the front of your closet as temperatures drift from warm to cool; it's the perfect study in contrasts, with long sleeves and a high mock neck for welcoming cold weather, and the sheer, warm-weather-friendly lace mesh. Wear it as a standalone top, or layer a top over it — those long lace sleeves would look incredible peeping out from a ripped T-shirt.
4. A Pair Of Cropped Pants In Sustainable Leather
The Le Jane Crop serves as a sort of greatest-hits of leather pants trends; the au courant silhouette features a high-rise waist that's fitted through the hips, which then relaxes through the thigh to end in a straight leg. Made of a soft, recycled leather blend, you'll wear these trousers all year with tees, tanks when it's warm, and cashmere sweaters once chilly weather arrives.
5. This Romantic, Glam-Rock Poet Blouse For Going Out
The diaphanous silk on FRAME's ruffled button-up shirt combines a streaming ribbon neck tie and frothy detailing for an effect that's equal parts romantic and rock 'n' roll, making it ideal for statement ensembles after dark. The delicate come-hither details will elevate denim, sweeten leather, and look incredible with so many styles of pants and skirts — try it paired with their leather mini skirt and heels.
6. A Classic Cashmere Crewneck You'll Keep Forever
You'll want to wear this plush crewneck sweater with everything from joggers to denim and trousers; it's made from luxe cashmere you'll wear on repeat, in the eternally chic and versatile neutrals of gray and camel. If you've been looking for a piece that will take you into chilly temps, put this one at the top of your list; it's the kind of thing you'll return to season after season.
7. A Pair Of Palazzo Jeans With A Vintage Feel
The wide legs of the Le Slim palazzo jeans are beyond on-trend — and you won't overheat on days that lean more towards warm than cool. They feature a high waist and a fitted hip in a stretchy cotton-modal blend; pair with a slim-fitting T-shirt to balance the silhouette, and — for a little early aughts influence — some pointed-toe heels.
8. This Splurge-Worthy Leather Blazer In A Buttery Espresso Hue
Treat yourself with the Femme blazer; the classic tailored silhouette is rendered in a chic dark roast espresso shade, a less expected choice that makes it the sort of timeless yet trendy piece you'll keep forever. Featuring wide lapels and double button closure, it's made of supple leather that will only look better with age. Plus it's the perfect thing to pop on when the temps aren't yet cold enough for you to pull your puffer out of storage.
9. A Decadent Silk Midi Skirt You'll Wear All Year
A wardrobe essential any time of the year, the Bias midi skirt is particularly handy to have around in transitional seasons. It's floaty enough to be paired with your hot weather tops, and the midi length can seamlessly shift into cold-weather ensembles when paired with cashmere sweaters and tall leather boots. Bias cut for the perfect drape, this skirt is made of 100% silk for the ultimate in luxury as well as versatility.
10. This Pair Of Barrel-Leg Denim With A Cool Ultra-High Rise
If you're looking for a pair of statement denim, these double-waistband barrel jeans are the pair to take you through transitional weather. They've got a loose fit, but with a slightly pegged hem for a little added structure, and a chic, sky-high waist that you can pair with crop tops while you wait for sweater weather to arrive.
11. A French-Girl Balloon Sweatshirt
Just because it's a casual day doesn't mean you can't look chic, and this luxurious take on the sweatshirt understands that perfectly. Made of soft 100% organic cotton — the iconic comfort fabric — the sweatshirt features subtle yet elevated details like a mock neck and balloon sleeves. And this striped version feels a bit French New Wave, in all the best ways — Jane Birkin would surely approve.
12. A Slouchy Denim Shirt Dress
It's difficult to decide which way the Pompeii shirt dress would look best, since it's so ideal for transitional layering. Perhaps as a dress, belted and paired with thigh-high boots? What about as an oversized shirt, worn with this pair of slim-fitting stovepipe denim also in the collection? Or possibly a shacket, layered over a fitted turtleneck? However you style it, the button-front, patch pockets, and notch collar are all up for the task.
13. A Silk Shirt To Take You From The Office To Cocktails
For days when you'll be heading straight from the office to cocktails, reach for FRAME's Standard shirt. It's got the button-down silhouette and notch collar of classic office attire rendered in a lush, shimmery stretch silk that's sophisticated enough for dressier occasions. Wide cuffs only add to the glamour; to turn up the heat, undo a few extra buttons.
Once you've finished identifying your favorite pieces from their latest drop, be sure to give the rest of the fall collection a thorough review — from pants, shorts, skirts, and dresses, to jackets and accessories, FRAME has a style roster to prepare you for any occasion with its signature cool-girl aesthetic.
This article was originally published on