Glitter Up Your Button-Down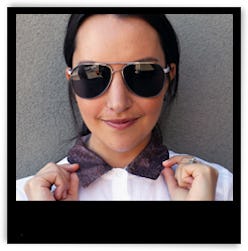 The holidays are right around the corner and that means lots of cocktail events, holiday get-togethers and all-night dance parties. But what's a true soiree without a touch of glitter? Here are 3 simple ways to spruce up your basic white button-down with nothing but glitter, painter's tape and fabric glue, brought to you by Brit + Co!
Click through to learn how to glitter up your own basic button down!
First thing is to get your materials in order. You'll need a white shirt, painter's tape, a paintbrush and glitter.
To prep your workspace, lay down a piece of wax paper or newspaper. Next, tape off the part that you'll be glittering so you're sure to have a clean edge.
Brush the glittering area with glue. Pour glitter on and press gently so that it adheres to your garment. Repeat until you've got a solid coat of glitter.
Let dry for a few hours, then remove the tape. Look at those clean gold lines—so festive!
The final product! Love the look of this button seam just peeking out with a bit of bling.
Another option is to glitter up your collar. A little bit preppy with just the right amount of edge!
Don't be afraid to just go for a silver cuff or two—it's the perfect touch of subtle arm candy, and you can even wear it to the office!