How To Gift Like A Fashion Insider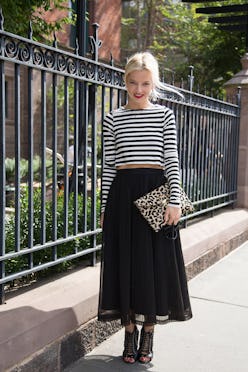 Shopbop's Fashion Director Elle Strauss knows a thing or two about handpicking the most fabulous pieces on the market (she has, after all, made a career out of it), which is why we mined her for gift-giving advice. Here is what she is buying for her close friends and family members this holiday season. Excuse us while we "Add To Cart" everything on her swoon-worthy list.
Elle Strauss, Style Director of Shopbop
"My best friend just moved into a new apartment so I'll be gifting her Vogue and the MET Costume Institute's tome. Coffee table books make great presents because they can appeal to any aesthetic while also feeling extremely personal."
"The adoration of leopard print runs deep in my family—everyone from my grandma to my four year old daughter is a fan—so I instantly knew I had to get this Rag and Bone sweater for my mom."
"With that being said, I can't think of a better way to spoil myself this year than with this leopard maxi dress from hit brand, Sea. Like mother like daughter!"
"My sister loves a little bling, so this year I plan to give her a necklace from one of our newest lines, Mexican designer Laura Cantu. It's the perfect conversation starter for the multitude of holiday soirees we have to attend."
"These headphones are such fun and beat (get it?) everyday headsets by a landslide. My cousin is flying in from LA for the holidays so I'll definitely be snagging a pair of these for her to enjoy on the trip home."
"I seriously don't know what I would do without my assistant, Lizzy. Her impressive organization skills are rivaled only by her epic stationary collection. I thought I'd add to it with this quirky card set."
"My husband adores his Reigning Champ sweats so I think it's only appropriate that I complete his lazy Sunday uniform with this pullover from East Dane."