Follow Friday—Elle From Elle Frost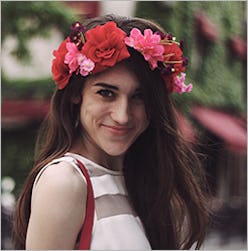 There's something about Parisian girls' style that continually peaks our interest—that inimitable air of je ne sais quoi has accounted for many an hour spent studiously perusing street style blogs. Miss Elle Frost encapsulates that effortless energy on her page—a mix of DIY projects (we love!) and OOTD posts, her site keeps it fresh with Euro-infused sensibilities cool enough to copy! Read all about Elle, and don't forget to add her style diary to your blogroll!
The Basics:
Elle Frost, Paris, France.
Her 5 summertime essentials:
A floppy summer hat or snapback, a retro style bikini, a Sulphate-free hair mask for summer damaged hair, a great playlist with some classic summer time songs and, of course, a mojito!
Currently coveting...
Vintage leather shorts, some classic Ray Bans and my Vivienne Westwood flip-flops, weather permitting of course.
Her style in 5 words:
Simple, chic, experimental and fun!
"Started From The Bottom" by Drake, "Dusty Rainbow" by Wax Taylor, Notorious B.I.G x Marvin Gaye remix by Nicholas Jaar, "Thrift Shop" by Macklemore & "I Follow Rivers" by Lykke Li