7 Vacation Staples You Need To Pack In Your Carry-On
Robino Salvatore/GC Images/Getty Images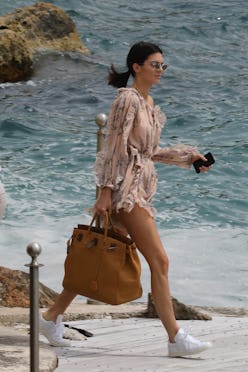 After a year without travel, odds are you don't feel quite back up to speed on the art of packing a suitcase for a vacation. You're used to having access to your full closet, but paring things down into a carry-on takes thought and preparation. While I understand the appeal of a straightforward list, I often try to envision my easy-to-wear vacation pieces paired with each potential scenario day by day. This ensures that I'm hitting all the right categories for whatever may be on the agenda — for swimming, basking, dining out, hiking, etc.
Then, I do what I call cross-checking, making sure what I pack can be worn more than once. If it's too specific or can't easily be styled with anything else, I leave it behind (sorry, stilettos). And while it might be tempting to stick to neutral essentials to ensure your packing will be streamlined, it's possible to add trends and funky colors into the mix as long as you put the forethought in before departure. This is the summer of maximalism, after all. If your flights are booked and you're starting to panic over what you need to bring along, below find a breakdown of summer staples for your next beach or poolside getaway.
We only include products that have been independently selected by TZR's editorial team. However, we may receive a portion of sales if you purchase a product through a link in this article.
Sweet Swimsuits
When shopping for a swimsuit, opt for something that will be comfortable enough to handle a lap or two (and maybe even a pre-swim cannonball), but will work for any beachy photos you plan on posing for.
Statement Sunglasses
Sunglasses are the one item that can take an outfit from casual to cool, instantly. Try a pair with a hint of color to add an unexpected element to your denim cutoffs and white tee combo.
Playful Shorts & Skirts
Any trip to the tropics requires something with a short hemline. If you plan on being on the active side, opt for shorts. For a night out or a more subdued event, try a flouncy miniskirt.
Lightweight Dresses
The ideal summer dress is one that has movement and allows your skin to feel a fresh breeze as you relax. Opt for lightweight cotton or linen fabric and a silhouette that has a bit more room.
Easy Bags
Swap heavy-duty leather for light materials and woven textures. Not only will they handle potential splashes or sand more easily, but they'll also lighten up your suitcase, saving you the risk of overweight fees.
Bold Jewelry
This summer, pick out a few bold jewelry pieces to add into the mix. Bright stones and shells stand out whether it's in the form of a ring, earrings, or an elegantly draped necklace.
Smart Sandals
Finding the perfect pair of sandals is a crucial part of pulling together a vacation look. Ideally, one style can transition from day to night, but you can opt for two separate options — a heel and flat — if needed for the itinerary.