DKNY Resort 2014: 5 Easy Ways To Go Sporty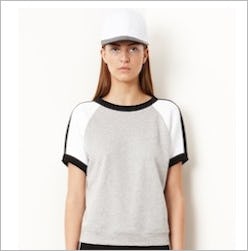 DKNY's resort 2014 collection was all about glam, nighttime pieces paired with the brand's signature sporty elements. Want to add a little bit of athletic appeal to your own going-out wardrobe? Try one of these easy styling ideas, inspired by the just-launched lookbook.
DKNY Resort 2014
Pair a glam pencil skirt with a slouchy, raglan-sleeve top.
DKNY Resort 2014
Layer a paper-thin anorak under a tuxedo blazer (left).
DKNY Resort 2014
Add a jolt of energetic color to sleek black pieces.
DKNY Resort 2014
Replace your go-to blazer with an athletic-inspired bomber jacket.
DKNY Resort 2014
Two pieces that'll add instant athleticism: track pants and a classic baseball cap.