Team Zoe's Fall Denim Picks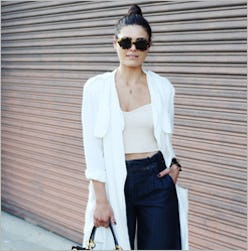 In the spirit of August, fashion's unofficial denim month, we asked six Team Zoe staffers: "What denim item is on your fall shopping list?". Read about (and shop!) their recent obsessions below.
Paige Edgemont Jeans in Aged Woodberry, $289
"I just acquired a really cool pair of coated jeans with zippers by Paige. They really look like leather! I know I'm going to wear them a lot."
Current/Elliott Slouchy Stiletto Jeans, $292
"I just bought a pair of Current/Elliott slouchy stiletto jeans on Ebay and I'm obsessed – they haven't left my body."
Burberry London Denim Pencil Skirt, $454
"I'm looking for a denim pencil skirt. love the idea of being able to incorporate denim into a more sophisticated, buttoned-up look. I would wear with a chunky ribbed sweater with a white collared shirt underneath and some high white pointed pumps for fall. Maybe throw a classic trench overtop."
One Teaspoon Awesome Baggies Jeans, $148
"Right now I'm obsessed with One Teaspoon's Awesome Baggies, I just ordered another pair and cannot wait until they arrive. They make the best distressed jeans an denim shorts."
girl. by Band of Outsiders Denim Dress, $295
"For fall I am looking for a denim dress that I can pair with boots or layer with a jacket. I have also been on the search for the perfect pair of black jeans!"
Zara Jeans With Zips, $70
"I'm looking for denim with an interesting element - skinnies with side zippers at the ankle or maybe cut at the bottom for a frayed look."