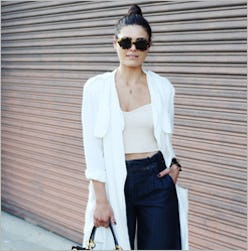 There's no better feeling than finding the perfect denim item for your shape, lifestyle and wardrobe. Today, 9 RZ staffers spill on their favorite find of all time. Meet the girls—then shop their look!
Kristi Mikesky, Community Manager
The story behind her favorite jeans… "I'm obsessed with distressed denim—I love that this pair by Frame Denim incorporates a bit of that edge while still remaining sophisticated with its cropped ankle length and uniform wash."
Frame Denim Jeans, $301
Her denim M.O…. "I prefer to keep things classic and unfussy. With my height, I love a great pair of cropped jeans—I think showing a little ankle is flattering and subtly sexy."
Madewell Tank, $60; Iro Jacket, $1161; Zara Pumps, $50
How she wears denim… "As a basics girl, I often pair denim with delicate silk tanks and pointy pumps. I'll throw on a blingy jacket for a little added flair—an easy update for an after-work drinks situation."
Kendall Cohan, Product Development Associate
The story behind her favorite jeans… "I bought these jeans at an Anthropologie in Seattle when I was a freshman at the University of Washington. When I found these, I had been searching for a casual pair of wide-leg pants, so I had to get them!"
Red Valentino Jeans, $309
Her denim M.O…. "Keep it simple – less is always more. I love a wide leg silhouette because it's elongating and makes me look taller than I really am."
Topshop Coat, $150; Balenciaga Bag, $1795; The Row Sunglasses, $445
How she wears denim… "I am all about mixing high with low and vintage with modern. I love wearing these jeans with a simple knit tank, a silk trench I got at Zara and my Balenciaga Lune bag."
Alyssa Sutter, Assistant Stylist
The story behind her favorite denim piece… "This Current/Elliott jumper is flattering on my small frame and so comfortable. The silhouette gives me a waist. If it didn't cinch in at the waist, the heavy denim material would swallow me!"
Haute Hippie Romper, $235
Her denim M.O…. "To be honest, I am not a big denim fan. I tend to gravitate towards non-traditional denim pieces like a romper or a maxi skirt."
Topshop Jacket, $330; Loeffler Randall Flats, $295; Illesteva Glasses, $260
How she wears denim… "I feel like rompers are typically worn more in the summer but they can be worn in the fall too! You just need the right pieces to complete the look. I love it with menswear-inspired items like oxford flats or a leather jacket."
Kelsey Berlacher, Product Development Associate
The story behind her favorite jeans… "I bought these Current/Elliott jeans on Shopbop over two years ago. Their denim is super-soft and has the best stretch and fit. Plus, most of my black jeans fade after extended wear—I live in these and they haven't faded at all!"
Current/Elliott Jeans, $178
Her denim M.O…. "I'm pretty versatile when it comes to denim. I love it in all forms; distressed, classic, black or chambray though you'll probably never find me in printed or colored jeans."
LNA T-Shirt, $55; Burberry Jacket, $2995; Rachel Zoe Tote, $395; Acne Boots, $630
How she wears denim… "LNA t-shirts are my absolute favorite. I wear some version of their tops every day. Otherwise, it's all about investing in great leather pieces. My go-tos are my Burberry Prorsum moto jacket, Acne ankle boots and Rachel Zoe Kye tote (I take it with me everywhere)."
Jill Lincoln, Style Director
The story behind her favorite denim piece… "These shorts were a gift from Citizens of Humanity. The hand (that's denim speak!) is ultra-soft and the details are super-cool and unique for non-vintage denim. You can dress them up or down and they feel like pajamas."
Rag & Bone Shorts, $198
Her denim M.O…. "Any denim piece, no matter how distressed or tailored, can be dressed up or down depending on how you style it. Dress down tailored denim trousers with a vintage T, dress up cut-offs with a tux jacket and sexy heels."
Saint Laurent Sandals, $995; Vince T-Shirt, $110; Lucy Folk Bracelets, $78-$72
How she wears denim… "I like to wear these shorts with platform sandals, a paper-thin tee and some fun jewelry. I've had my white, no-name T-shirt since middle school."
Lindsay Pogemiller, Styling Assistant
The story behind her favorite jeans… "I love these Current/Elliott jeans because they have a great fit and don't get baggy throughout the day. That's my pet peeve about some jeans but Current/Elliott jeans keep their shape! Plus I love the distressing on them."
Current/Elliott Jeans, $362
Her denim M.O…. "My approach to wearing denim is anything goes. It can be appropriate for any number of occasions — for work, on a date, even a chambray shirt as a cover up for the beach."
Alexander Wang Tank, $110; Ancient Greek Sandals, $185; Cat Makes Things Necklaces, $66 Each
How she wears denim… "When I'm wearing jeans that have a lot of rips and tears I like to just keep it simple with a tank, some patterned sandals and some jewelry. I love to wear extra-long necklaces by Cat Makes Things on Etsy."
Jordan Johnson, Styling Associate
The story behind her favorite denim piece… "This Current/Elliott skirt is so versatile; when it's cold I button it up and wear with a sweater and when it's warm, like today, I wear it with a tank or a T-shirt. I haven't found a top that it doesn't go with."
Topshop Skirt, $68
Her denim M.O…. "I generally like to keep it distressed and casual. I'm not one to really dress up denim, throwing on a heel and a button down is about as dressy as it gets."
Quiksilver Tank, $50; K Jacques Sandals, $280; Baublebar Bracelet, $75
How she wears denim… "An easy vintage-inspired top, a few pieces of jewelry and flat sandals are all you need."
Jessica Amento, Editorial Manager
The story behind her favorite jeans… "I acquired these jeans in the spring as a very sweet gift from the Joe's Jeans PR team. I love them for their details: they're destroyed at the knees and frayed at the hem. Plus, the fit is awesome."
Joe's Jeans Skinny, $165
Her denim M.O…. "I'll try anything once."
Current/Elliott Jacket, $266; Equipment Shirt, $208; B Brian Atwood Boots, $508
How she wears denim… "I love to wear jeans with a basic button-down and a great jacket; then I make things interesting with the accessories. I am really into rolling up the cuffs on my jeans lately to mimic a cropped style and show off great shoes."
Lauren Blakeley, Product Development Manager
The story behind her favorite jeans… "I got these Mother Denim jeans from Piperlime earlier this summer. I love the wash and high rise. They're fitted but super-comfortable."
Mother Denim Jeans, $196
Her denim M.O…. "I love an easy pair of jeans that just complement your outfit but I will also wear a denim dress or chambray shirt where the denim is more of the focal point. I guess my denim M.O. is to be versatile!"
Rachel Zoe Sweater, $395; Sophie Hulme Tote, $890; Zara Sandals, $80
How she wears denim… "For cooler nights in L.A., I love to wear jeans with the Michah sweater from our fall collection, a pair of ankle-strap sandals and a great bag."