This Blogger Makes Zara Look Like A Million Bucks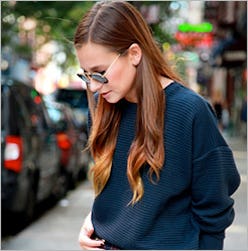 Operating under the mentality that often times, getting dressed in the morning is hard (even for the most stylish bunch!), Danielle Bernstein of We Wore What started her style diary to keep a daily log of her outfits while simultaneously inspiring others. A devotee of budget-friendly shopping destinations like Zara and ASOS, Danielle expertly mixes high and low price points to achieve looks that are aspirational, yet achievable—the most fabulous sartorial combination!
The Basics:
Danielle Bernstein, 21, NYC
What she's currently coveting..., http://www.thezoereport.com/danielle-bernstein-we-wore-what/?slide=3
"Black patent pointy toe booties, an oversized biker jacket, & the perfect fedora."
Her style in 5 words:
"Comfortable, edgy, casual, minimalistic & chic."
Her favorite beauty look for fall:
"Anything with a dark lip!" (À la Dolce & Gabbana Fall 2013)
Her top shopping spots:
"The Reformation, ASOS, Shopbop, Net-a-porter & Zara" (seen here sporting a beloved "Kate Moss and Some Pizza Slices" sweatshirt from The Reformation)