Spotlight: What To Do In San Francisco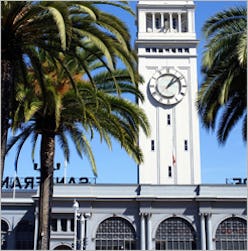 The perfect trip to San Francisco starts with a suitcase full of chic clothes followed by an itinerary filled with shopping, dining and sightseeing. Click through to read about our favorite SF locales.
Ferry Building
Start your morning off with a cup of Blue Bottle coffee while you peruse the expansive farmers market at the iconic Ferry Building near the Embarcadero.
Azalea
Stop by Azalea to shop designer favorites, like Alexander Wang and 3.1 Phillip Lim at this hip boutique nestled in the heart of Hayes Valley.
Birch
Birch is unlike any other flower shop in the city. With its black interior and curated flower selection, this glam Hayes Valley floral shop is worthy of a stop.
Foreign Cinema
Perfect for brunch or dinner, Foreign Cinema offers premium outdoor seating while black and white foreign films project on the wall.
DeYoung Museum
Make your way over to Golden Gate Park where you can take part in one of the many fashion exhibits at the DeYoung Museum.
Domaine Carneros Winery
Just a quick one-hour car ride takes you to the crème de la crème of California Wine Country in Napa Valley. Known for its sparkling wine, Domaine Carneros is an oasis with its rows of vineyards and stunning chateau.
Swan Oyster Depot
Known for its fresh fish and oyster shooters, this Nob Hill establishment has been around since the early 1900s. Insider tip, get here early as they have been known to have lines out the door during lunchtime rush.
Tartine Bakery
After a day of shopping and taking in the scenery, indulge your sweet tooth at the popular Tartine Bakery in the Mission district.
Alamo Square
Whatever happened to predictability? Take a break in the grassy area of Alamo Square and snap a picture of the colorful houses known as 'Painted Ladies'.
See more stylish places to go, courtesy of Coach!
From finding your perfect travel accessories to discovering where to shop in San Francisco and what to eat in Chicago, continue on to see more slideshows!