Sienna Miller Proves That Florals Are The Print Du Jour This Season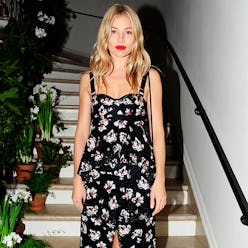 Admired for her inimitable take on bohemian style, Sienna Miller is at once refined and fiercely cool. Whether in a couture gown, tailored separates or a classic leather jacket and jeans, she provides major sartorial inspiration, and her latest outfit is no exception. The actress just stepped out in a graphic T-shirt, polishing it up by teaming it with one of our must-haves this season: plaid trousers. The playful pairing loosens up the ordinarily prim pants. With a long cardigan thrown over the top, the ensemble gets a cozy-chic finish—a formula we plan to replicate ASAP for fall. See it here, and click through for more of Sienna's best style moments to date.
In A Proenza Schouler Dress
In NYC, 2017.
In The Vampire's Wife Graphic T-Shirt, A Long Cardigan Plaid Trousers And Gray Matters Shoes
In London, 2017
In The Vampire's Wife
At the mothers2mothers Host Committee Breakfast in London, 2017
In The Vampire's Wife Dress And Pierre Hardy Heels
In London, 2017
With A Mansur Gavriel Bag
In London, 2017
In A Gucci Jacket And Loafers With A Givenchy Bag
In London, 2017
In A Button-Down Shirt, Skinny Jeans And Statement Flats
In London, 2017
In A Rockins Pajama Set, Pierre Hardy Sandals And Proenza Schouler Bag
In London, 2017
In Adidas Sneakers And A Givenchy Bag
In London, 2017
In Chanel
In London, 2017
In Frame Jeans With A Proezna Schouler Bag
Leaving the theater after her performance in Cat on a Hot Tin Roof in London, 2017
In Erdem
In London, 2017
In Ralph Lauren, Kate Spade Earrings And Max Mara Sunglasses
At Wimbledon, 2017
In Silk Floral Pants
In London, 2017
In A Chloé Dress, Pierre Hardy Shoes And A Proenza Schouler Bag
In London, 2017
In A Rockins Scarf
At the Rockins Selfridges Pop-Up Shop Launch Party in London, 2017
In The Row With A Tod's Clutch And Cartier Jewlery
At the Panthere De Cartier Party in Los Angeles, 2017
In A Frame Trench And Mansur Gavriel Pumps
At the 3 Generations film screening in New York City, 2017
In A J.W. Anderson Dress And Gianvito Rossi Heels
Appearing on The Tonight Show with Jimmy Fallon, 2017
In Proenza Schouler
At the Amazon Studios and Bleecker Street Special screening of The Lost City of Z in NYC, 2017
In Chloé
At the The Lost City Of Z premiere, 2017
In Christian Dior
At the Christian Dior show at Paris Fashion Week, 2017
In Pink Trousers And A Navy Sweater
In London, 2017
In Fleur Du Mal
At a Golden Globes after-party, 2017
In Michael Kors Collection
At the Golden Globes, 2017
In Adidas Sneakers
Arriving at LAX, 2017
In Michael Kors
With actress Emily Blunt at the Michael Kors Spring 2016 fashion show at New York Fashion Week
In Gucci
At the Met Gala in New York City, 2016
Carrying A Gucci Bag
At the launch of 100 Wardour Street in London, 2016
In Saint Laurent
At the 24th anniversary of the Montblanc De La Culture Arts Patronage Awards in New York City, 2015
In A Rag & Bone Coat
Arriving at The Late Show with Stephen Colbert in New York City, 2015
In Ray-Ban Sunglasses
In New York City, 2015
In A Rodarte Dress And Christian Louboutin Heels
Attending the Burnt premiere at New York's Museum of Modern Art, 2015
In Céline And Ray-Ban Sunglasses
Outside Good Morning America in New York City, 2015
In Michael Kors Collection
At the premiere of High Rise at the BFI London Film Festival in London, 2015
In A Chanel Jacket And Frame Denim Blouse
At the Social Good Summit in New York City, 2015
In Victoria Beckham
At the San Sebastian Film Festival in Spain, 2015
In Galvan
At the Wimbledon tennis championships in London, 2015
In A Coccinelle Bag And Prada Sandals
In France, 2015
In Gucci
At the La Glace et le Ciel premiere and closing ceremony during the Cannes Film Festival, 2015
In Gucci
At the Macbeth premiere during the Cannes Film Festival, 2015
In A Ralph Lauren Collection Dress And Nathalie Trad Bag
At amfAR's Cinema Against AIDS Gala in Cap d'Antibes, France, 2015
In Calvin Klein Collection
With Rachel Weisz, Mélanie Laurent and Emily Blunt at the Cannes Film Festival, 2015
In A Sonia Rykiel Dress And A Bulgari Bag And Jewelry
With actor Xavier Dolan at the Carol premiere during the Cannes Film Festival, 2015
In Valentino
At The Sea of Trees premiere during the Cannes Film Festival, 2015
In A Prada Dress And Swarovski Earrings
At The Hollywood Reporter and Swarovski party during the Cannes Film Festival, 2015
In Balenciaga
At the Jury photo call during the Cannes Film Festival, 2015
In Lanvin
At the opening ceremony and premiere of La Tête Haute during the Cannes Film Festival, 2015
Carrying A Kurt Geiger Bag
In France, 2015
In Thakoon
At the Met Gala in New York City, 2015
In Calvin Klein Collection
At the Calvin Klein Collection runway show in New York City, 2015
In A White Dress And Platform Heels
At The Late Show with David Letterman in New York City, 2015
In Altuzarra And A Jennifer Fisher Choker
At The Daily Show with Jon Stewart in New York City, 2015
In Miu Miu And Tiffany & Co. Jewelry
At the Golden Globes, 2015
In Balenciaga
At the New York City premiere of American Sniper, 2014
In A Printed Top, Blazer And Jeans
In New York City, 2014