Sienna Miller's Easy Outfit Proves Petite Girls Can Pull Off Anything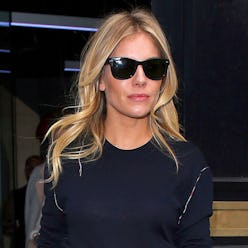 Petite women have it tough sometimes: clothing can easily drown small statures and slim builds. Voluminous pieces are typically a no-no, which makes on-trend experimentation all the more limited when oversized looks abound. To avoid looking like a kid playing dress up, Sienna Miller used a simple style hack for high-volume impact.
The reason her look works? The balance of proportions—a high waist and loose, wide legs make Sienna's stems look miles long, while her fitted sweater highlights her figure without being overly clingy. The result is a polished yet relaxed vibe, which is particularly highlighted with her choice of footwear: Mules allow the extra length of her pants to gather around her ankles in such a cool way. Here, shop three similar combos that will help you channel the actress' ensemble. All are perfect for the office, drinks or date night. Just top it off with a gorgeous coat, and you're instantly winter-ready.
Sienna's Style Hack
Get The Look