Sarah Jessica Parker Looks Like A Grown-Up Carrie Bradshaw In This Chic Summer Outfit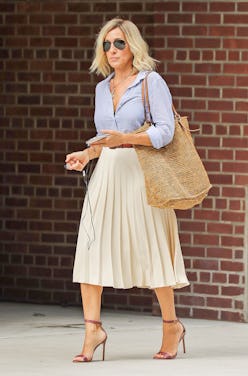 Although another reboot is nowhere in sight, Sarah Jessica Parker has been serving up serious SATC vibes with her recent hair change and outfit choices. Although her latest look may not appear so Carrie at first—as it's absent of anything sequined, floral appliquéd or resembling a tutu—it embraces an outfit formula our heroine always relied on: a midi skirt and killer shoes. Pairing a pleated A-line and metallic ankle-strap heels with a button-down and straw bag, the actress shows us what grown-up Carrie would look like now IRL. Plus, we love how extremely wearable and utterly perfect it is for the office. Score the ensemble for yourself by shopping our picks ahead.
Channel Carrie At Work
Sarah Jessica Parker in New York City.
Shop The Look