Winning Formula: Sarah Jessica Parker's Heel And Tights Look Is Perfection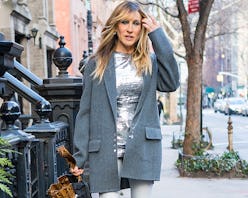 If you're looking for a way to wear those summer sandals in the fall, take Sarah Jessica Parker's heel-and-tights look for a spin. The designer and actor has always had an uncanny ability to meld classic and practical style with cutting edge, and this particular formula is sartorial gold for the colder months ahead, not to mention super versatile (and very Carrie Bradshaw, to boot). As a real-life shoe fanatic, Parker has demonstrated a sartorially savvy way of transitioning her favorite sandals, pumps, and peep-toes into fall by pairing them statement-making hosiery.
Let's break this down to a science: For starters, the designer-actress regularly opts for colorfully uncoordinated shoes with many of her feminine dresses and skirts, taking us by surprise in unexpected hues like chartreuse pumps with a printed forest green dress, pointy azure blue heels to offset a graphic black-and-white ensemble, and electric yellow stilettos to anchor a leopard-print midi. (There are many more examples where that came from.) The moment the weather cools, SJP kicks it up a notch by throwing in tights and socks that are equally vibrant in shade or pattern — a quirky-chic aesthetic Carrie Bradshaw would definitely have donned herself (and absolutely has, if my knowledge of Sex And The City serves me correctly).
The trick to pulling off Parker's punchy outfit formula is choosing colors that work well together in opposition or picking out accent colors from your clothing and highlighting a chosen shade with accessories in a similar hue. If that sounds complicated, it sort of is. The truth is, there actually isn't a hard and fast rule with pattern and color mixing, you just have to feel comfortable and confident in your ensemble. That said, to help give you a running start on making the look your own, we're illustrating four of SJP's playfully layered looks and shopping out the exact shoes and hosiery you need to re-create each outfit.
The moral of this autumn story? Don't be afraid to go bold.
When considering a neon shoe, an equally electric sock is an easy way to tie it all together (sheer styles are especially on trend for fall).
What's a suitable offset to glittering heels? White fishnets, per SJP.
Brighten up a black dress and dark jacket with flashy pink tights and snakeskin peep-toes (we know you know how big animal motifs are for fall).
As Parker proves, blue and green are always complimentary, whether in muted tones for brilliant shades. When layering in tights, sheer polka dots are an easy upgrade from basic black.