Rosie Huntington-Whiteley Shares The Outfit Formula She'll Be Living In This Fall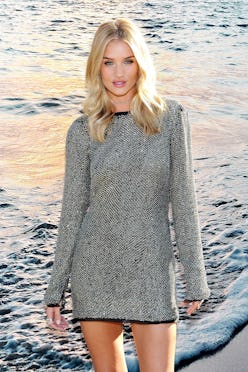 As if Rosie Huntington-Whiteley hasn't achieved enough in her career thus far, the actress and model is now Ugg's first-ever global women's ambassador. Celebrating this milestone at a gorgeous event in Malibu, we chatted with Rosie about her love for the brand ("It represents the real, true, off-duty me") and, of course, the exciting prospect of fall style (should the season ever feel like changing here in balmy Los Angeles).
In talking the trend she's most excited about for autumn, she said: "I'm totally loving how denim was huge this summer—that high-waisted, '90s-feeling, thick denim—and I'm excited to see how that translates into the cooler months. [For fall] I'll be wearing my high-waisted jeans with a beautiful, tailored blouse."
Cut to every fashion girl buying into that look, ASAP. We agree—it's an easy, effortlessly cool outfit formula that women can tailor to their personal preferences. And of course, we couldn't not ask Rosie about some tips on airport style—as the reigning queen of jet-set cool, she suggested a put-together yet cozy look for an impending outbound flight.
"I'd wear a pair of slim, black [Uggs] and rock them with skinny black Paige jeans, a black slinky t-shirt and cool blazer or tuxedo jacket to make the outfit sleek and a bit rock 'n' roll," she said. Monochromatic and comfortable? With that, we are onboard.
Steal Rosie's Style