It Looks Like Princess Charlotte Just Wore Prince Harry's Hand-Me-Downs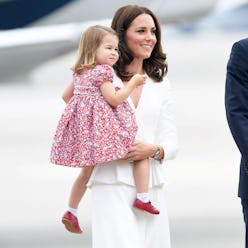 Just because you're a member of the royal family doesn't mean you're exempt from real-world habits like flying coach, repeating wardrobe favorites and even sporting hand-me-downs from royals past. That's exactly what Princess Charlotte had us thinking when she arrived in Warsaw with her family for a five-day tour of Poland and Germany. The little one was spotted in a red-and-white floral dress paired with red Mary Janes that look strikingly similar to those that once belonged to her uncle, Prince Harry.
Fans took to social media to point out the shoes were seemingly identical to Harry's pair, which were originally purchased from Start-Rite. The young prince wore the shoes back in '86 at Highgrove House as well as in this photo shoot at Kensington Palace. Although the two took different approaches, both donned white socks with their red slippers.
Taking style cues from your fun uncle? Now that's one fashion tip we didn't see coming. There's a budding It girl in our midst.