Thanks To Oprah, We Know How Far Along Mindy Kaling Is In Her Pregnancy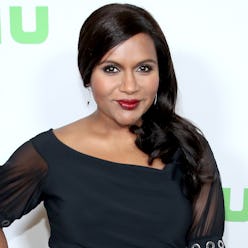 Oprah Winfrey has the uncanny ability to get people to open up, and true to form, she has just blessed us with very exclusive news about Mindy Kaling's pregnancy: The actress is apparently five months along, and we couldn't be more excited for her. According to the media mogul (also Mindy's co-star in the upcoming film A Wrinkle In Time), she first got the news during the movie's press line at Disney's D23 expo—only shortly after both Reese Witherspoon and director Ava DuVernay found out. Mindy reportedly told her, "Oh, Oprah, I don't think you know. I'm five months pregnant." Oprah's reaction was identical to ours: "And I said, 'Whaaat?!'"
While she's yet to confirm the deets herself, Mindy truly knows the most low-key of ways to break such major news. After all, it's been almost two weeks since we first heard she's expecting, and we're still dying to learn who the father is. Luckily, her maternity style has been keeping us at bay. Kicking it off with aplomb, Mindy debuted her baby bump in a midi dress with chiffon sleeves at the Television Critics Association's summer press tour in Los Angeles to promote her Hulu series The Mindy Project. She was absolutely glowing with a red lip and sideswept curls. We can't wait to see more of the mom-to-be (and hear more about baby number one, of course).