Kim And North vs. Beyoncé And Blue Ivy: Taking Mommy-And-Me Style To The Next Level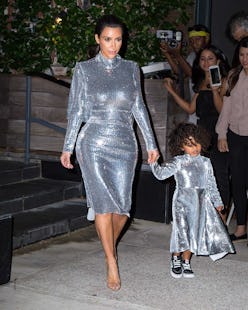 When your mom is one of the most celebrated cultural icons of our time—specifically for her fashion sense, no less—it figures that a penchant for style runs in your blood. Such is the case with North West and Blue Ivy Carter, the offspring of Kim Kardashian West and Beyoncé Knowles, respectively. And while it might be too early to tell if these mini-me's have an actual interest in fashion, the adorable looks they're spotted in now, when they're out with their moms, are delightful. Taking "mommy-and-me" style to the next level, Kim and Bey routinely step out with their adorable daughters in tow, each always dressed to the nines, and sometimes twinning! Which begs the question: Which pair's style is more covetable? While we couldn't possibly come to a conclusive answer—we thoroughly appreciate both—we have noticed certain sartorial tendencies emerge over time that serve to differentiate the two. Who do you identify with: Kim and North, or Beyoncé and Blue Ivy? Find out here.
Kim and North: Edgy and Trend-Driven
Have you seen any other duo on the planet rock matching Vetements like these two? When they stepped out for Kanye's show at Madison Square Garden, Kim and North rocked the of-the-moment designer with confidence and ease. Impressive, given that fully sequined ensembles are not always the easiest to pull off!
What does it mean when we want to copy North's exact look for our next weekend outing? This look is somehow age appropriate for the 3-year-old, and conjures up outfit-envy among fashion girls many years her senior. Her choker necklace, velvet dress, Vans sneakers and mini Fendi baguette (!!) are just as on-trend as mom's monochromatic body-skimming separates and clear vinyl sandals.
Beyoncé and Blue Ivy: Fierce & Feminine
This mother-daughter pair completely owned the red carpet at this year's VMAs. Beyonce—and now, Blue Ivy—have a way of making overtly feminine, stand-out pieces look strong, confident and cool. Consider this their best to date.
Bey and Blue edge up prim, romantic Gucci prints with metallic accessories, fierce specs and supermodel poses. These two prove that confidence is indeed one's best accessory.