Kim Kardashian And Kanye West Look Surprisingly Casual Ahead Of Their Third Anniversary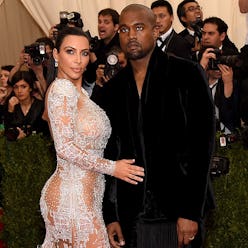 It's been a minute since we've seen Kim Kardashian and Kanye West grace the spotlight hand in hand. (Recall his absence at the Met Gala.) But just in time for their third wedding anniversary, we caught a glimpse of how the two are celebrating their big day—and it's a lot less flashy than we expected from (arguably) the world's most photographed couple.
As they left their lunch date yesterday at Nobu in Malibu, the Kardashian-Wests were spotted keeping it casual in matching sweatpants. The reality star accessorized her all-black ensemble with gold necklaces and stiletto ankle boots, while the rapper wore a sweater over his hoodie.
While they're surely still donning fashion-forward designer pieces on the regular, we're surprised to see Kim and Kanye dressed down and looking quite normal, considering the special occasion—a total shift from their usual extravagance. We have to admit: We're kinda liking the new Kimye.