Khloe Kardashian Shares Her Favorite Style From Her New Denim Line And The Fail-Safe Outfit Formula She Swears By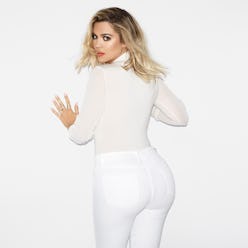 Since news broke last month that Khloe Kardashian had a line of jeans in the works, we've been on pins and needles to learn more. Officially launching today, Good American is what the world of premium denim has been missing, offering sizes 0-24 with technical design elements that aim to flatter and embrace women's curves. With her business partner Emma Grede, Khloe drew inspiration from her own experience searching for the perfect pair, having struggled in the past to find her size when shopping at the same boutiques as her sisters (not to mention always needing to alter what she did buy to fit her body).
"We're big on [the mantra] 'lets get denim that fits girls, not finding girls to fit the denim,'" the reality star noted when we met up with her and Emma for the low-down on the new launch. The Good American motto is all about breaking down the barriers of traditional beauty and championing inclusivity: "We have women [in the campaign] with tattoos and shaved heads; they're blond or brunette, tall or short," Khloe said. "To me, that's what beauty is—being so individual and confident and comfortable in your own skin, whatever that looks like. I don't believe there's a cookie cutter image of what beauty is supposed to be."
Available today at Nordstrom and on GoodAmerican.com, the new range boasts three core styles: Good Legs, Good Cuts and Good Waist. Scope some of our favorites from the line here, plus more from Khloe on her go-to pair and the outfit formula she's been living in.
"My favorite style is the Good Legs—I like my body in a skinny denim [silhouette] and this is my everyday pair," Khloe said. "They're so comfortable, I even wear them on the plane."
"I'm a bodysuit and denim girl," Khloe noted when talking her fail-safe uniform. "That's my version of jeans and a T-shirt. You can wear it during the day with flats and sneakers, or dress it up for night."
"[I wanted to] use our platform for something positive—to empower other women and teach them to love their bodies," Khloe said. "Be healthy, but it doesn't meant you have to be a size 0."