Kate Middleton Wore This Gorgeous Royal Heirloom, And We've Definitely Seen It Before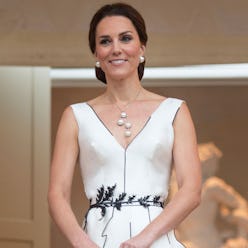 Rare is the occasion we see Kate Middleton wear the royal family jewels, so it's no surprise that when she's spotted in them, the moment makes headlines. Heirloom in discussion: Queen Elizabeth's pearl necklace, as worn by the Duchess of Cambridge at the monarch's 70th wedding anniversary at Windsor Castle.
If the four-strand pearl choker looks familiar, that's because the late Princess Diana donned the timeless accessory at a state banquet for the Netherlands back in 1982. (It's also not the first time Kate has flaunted a piece that was worn by Di and belongs to the Queen.) Pairing her pearls with another repeat—the Diane von Furstenberg dress of which (potential sister-in-law) Meghan Markle owns a knee-length iteration—Kate really does know how to keep things in the family.