Kate Middleton Just Took A Style Risk And We Couldn't Be Happier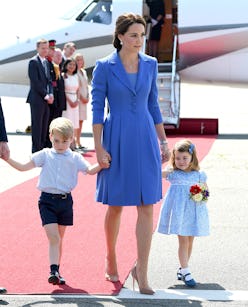 Kate Middleton, the poster child of simple-yet-chic ensembles, rarely shocks us with her outfit choices. Perhaps invigorated by Meghan Markle's arrival on the royal circuit, she chose an uncharacteristic ochre Erdem dress, featuring a bold floral print and long sleeves for a recent trip to Sweden. While this doesn't exactly land her in Lady Gaga territory, it is a departure from her typical attire, and a successful one at that. If you are inspired to try something more bold, why not follow her lead with a statement floral print, rendered on a demure silhouette. Whether you pair your dress with a tailored top coat and boots for evening or sneakers and a denim jacket for day, we guarantee the result will be polished and playful. Here, a few of our favorite options available now.
Homepage Image: Getty Images
Kate Middleton wearing an Erdem dress in Sweden.