The Reason Kaia Gerber And Cindy Crawford Don't Share Clothes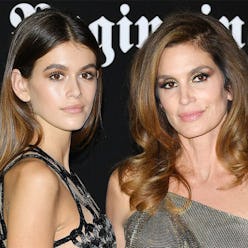 While Kaia Gerber and OG beauty Cindy Crawford might as well be twins, that doesn't mean the 16-year-old has full reign over the supermodel's enviable closet.
The young fashion darling has been fast following in the icon's footsteps, even mirroring Cindy's unforgettable 1992 Pepsi ad by snagging a denim campaign of her own. However, the teen insists she and her mom are really not that similar.
"I know we have a lot of the same mannerisms and, obviously, look a little bit alike, but yeah, I'd say we have different senses of humor and stuff like that," the runway fixture said to E! News while previewing her new Spring/Summer 2018 collaboration with Hudson Jeans.
Related: Cindy Crawford Says Kaia Gerber Didn't Want To Walk The Versace Runway With Her
She also revealed that being Cindy's daughter doesn't come with all the perks one might expect. "My mom and I aren't the same size. She's a bit taller," she complained. "And we're not the same shoe size either, which is heartbreaking."
Kaia admitted that her mom offers some good modeling advice, but she turns to her peer Kendall Jenner as a mentor in the business. "I think [Kendall] does a really good job of having a life outside of [work] and staying with friends and not separating herself too much, so I've just kind of learned that from her."
Two supermodel advisers? How lucky!
To view the original story, visit InStyle.
Related:
Hold The Phone, Cindy Crawford And Fam Just Won Paris Fashion Week At Omega Event