This Fashion Girl Wore 3 Valentino Dresses For Her Wedding, And We're Really Jealous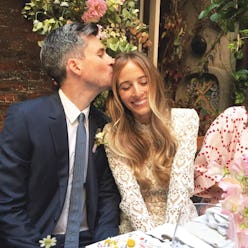 Fashion darling, DJ and designer Harley Viera-Newton got hitched this past weekend to Ross Schwartzman (aka DJ Ross One) in an intimate ceremony in New York City. The bride wore not one but three wedding dresses on her big day, all courtesy of Valentino (swoon). Harley donned a long-sleeved lace column gown for the morning ceremony, a floaty embroidered number for dinner and a chic mini with a glamorous topper for the reception. Now, that's a wardrobe change! If that weren't cool enough, her guest list was a literal who's who of the It-girl elite and included names like Alexa Chung and Laura Love.
Take a peek at her three looks below, and see Vogue's full coverage of her dreamy dresses here.
Harley Viera-Newton's Dream Wedding
Wedding Dress #1
In a Spring 2013 Valentino gown for the morning ceremony.
Wedding Dress #2
In a Pre-Fall 2013 Valentino dress for dinner.
Wedding Dress #3
In a Valentino mini and vintage faux-feather coat for the party.