Gigi Hadid's Polished-Yet-Warm Winter Ensemble Is Everything We Want To Be Wearing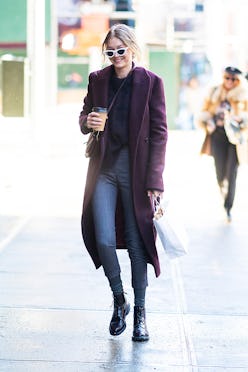 Without even trying, fresh-faced Gigi Hadid has established herself as an unstoppable style force. Her signature sporty off-duty getups have catapulted athleisure to new heights, while her sexy, glam red-carpet ensembles always nab best-dressed nods. As you know, we're all about identifying any affordable brands It girls happen to wear and Gigi is a high-low mix master. Here, shop her most recent home run.
In A Cos Coat
Playing with somber hues (and not leaning too heavily on black) is a fun way to reinvigorate your winter wardrobe. A classic tailored coat, like this Cos version, instantly elevates combat boots and plaid trousers from punk territory to downtown polish.
In a Sézane Coat
This outfit's genius lies in it's simplicity. The textured, faux-fur Sezanne Isée Coat, which retails for $280, plays beautifully with cozy corduroy pants and a slim-fitting ribbed sweater. The overall result is warm, thanks to the substantial fabrics, yet streamlined, thanks to the navy palette. We love her playful extras but would recommend accessorizing with dark square-frame glasses and a white purse.
See more of her looks here.