You Have To See Emma Watson Wearing Belle's Iconic Gown For Beauty And The Beast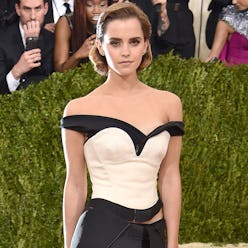 We've been patiently awaiting the release of the new Beauty and the Beast movie starring Emma Watson next March, so imagine our surprise when we got an early treat—that is, an exclusive first look of the actress in Belle's classic yellow gown. Thanks to Entertainment Weekly, fans were given a sneak peek into what is arguably the movie's most iconic moment—the scene in which Belle and the Beast realize their love for one another as they twirl around his magnificent ballroom to the tune of "Tale As Old As Time." (We also get to see Emma in the famous blue-and-white apron ensemble.) Honestly, there's no better actress to play the beloved Disney princess, and we can't wait until the film hits theaters! See the official teaser trailer below.
Homepage photo: Getty Images
Update 11/14/2016: The official trailer to Beauty and the Beast's live-action remake is here, and we're already drowning in a mix of emotions. Mark your calendars for March 17 when the movie is released.