Chrissy Teigen Handled A Near-Wardrobe Malfunction Like A Pro
Getty Images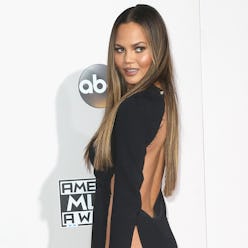 Nobody handles wardrobe malfunctions quite like Chrissy Teigen. To give this more context, we'll take you back to November of last year, when the supermodel appeared on the red carpet at the American Music Awards in this black number with dangerously high slits.
Photo: Getty Images
As Chrissy popped a pose, so did her dress, gracing paparazzi with a shot of her nether regions that she promptly (and with a laugh) covered with her hand. Later, she addressed the moment in an Instagram post, providing "apologies to anyone harmed mentally or physically by my hoo-ha."
Then a few months later, as she sat next to husband John Legend in a VIP box at the Super Bowl, Chrissy's top pulled a #FreeTheNipple that was unfortunately caught on camera. Ever the humorous gal, she shared the blunder on Twitter.
So last night at the Time 100 Gala, the unpredictable New York City weather decided to battle against Chrissy and her thigh-high-slit dress. But, alas, the fashion gods were on her side as the downpour and accompanying gusts of wind did nothing but show off her toned legs.
Oh, Chrissy. Just like your dress, you are pure gold.