9 Incredibly Stylish Celeb Mothers and Daughters
Stephen Lovekin/WWD/REX/Shutterstock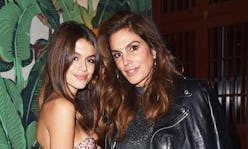 As we approach Mother's Day (have you shopped for your mom yet?), our thoughts obviously go to the matriarchs in our lives—but we can't help but also think of those A-list mothers and daughters who inspire us to be our most stylish selves. From lookalikes Reese Witherspoon and Ava Phillipe to the six-woman powerhouse that is the Kardashian-Jenner clan, scroll down to explore some of our favorites.
Goldie Hawn & Kate Hudson
This pair always brings some fun and whimsy to the red carpet. Clearly Kate has followed in her ultra-glam mama's footsteps on the big screen as well as with her sophisticated fashion choices.
Yolanda, Gigi, & Bella Hadid
These models started learning about style at birth, all thanks to their gorgeous mother. Fashion and stardom is literally in their blood, as Yolanda Hadid was a model for 15 years before she had children and starred in The Real Housewives franchise.
Beyoncé & Blue Ivy
Queen B is a true style icon and she is passing along the torch to her princess, Blue Ivy Carter. Whether they're on a beach vacation or slaying on the red carpet, these two always bring it.
Reese Witherspoon & Ava Phillipe
Besides looking almost identical, these two also share a love for sweet, feminine pieces with southern flair.
Zoe Kravitz & Lisa Bonet
Bonet has shared her free spirit, and bold, edgy style with her daughter who has graced the cover of countless magazines and stars in the HBO hit series Big Little Lies.
Diana Ross & Tracee Ellis Ross
Diana Ross is famous for her musical talent and notable contribution to style in the 1970s. It seems the apple doesn't fall far from the tree, as her daughter doesn't shy away from amazingly over-the-top looks either. Tracee even honored Diana at the 2017 American Music Awards by wearing an exact replica of one of her most memorable outfits (as seen in the photo above).
Cindy Crawford & Kaia Gerber
These two are the quintessential mother-daughter modeling duo. In addition to being carbon copies of each other, they both strike the perfect balance between natural and chic with their gorgeous brown locks and fresh, dewy skin.
Kris & The Kardashian/Jenner Women
Fame wasn't the only thing that everyone's favorite "momager" instilled in her five superstar daughters. Every member of this family has her own unique style, but they all share a passion for experimenting with trends and starting their own.
Chrissy Teigen & Luna Legend
Chrissy Teigen is a model, chef and social media icon. When it comes to hitting the town with little Luna, their looks never disappoint.