Brian Atwood's Milan Must-See List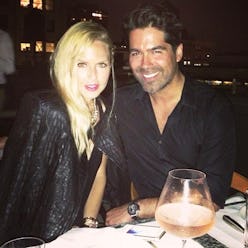 New York! Paris! London! Milan! Just like seasons past, September, a.k.a. Fashion Month, promises to be a whirlwind of international street style, drool-worthy glamour and consequently, plenty of wanderlust. In anticipation of the fashion festivities, we're happy to share a Milan itinerary from celebrated style insider — and reigning king of femme footwear (ideal for catching the eyes of snap-happy shutterbugs between shows) — Brian Atwood.
Explore Brian's Milan
"Milan has a special place in my heart because it is really where I started my career in fashion. Gianni Versace hired me there in June 1996 and my love for Milan has only grown since then."
Il Salumaio DiMonte-napoleoneRestaurant
Photo: Il Salumaio Di Montenapoleone
"This is a great place to have lunch outside in the courtyard or a very chic place for an aperitivo. Don't forget to try their Aperol Spritz."
L'oro Dei Farlocchi Curiosities Shop
Photo: EnRoute Magazine
"This is one of my favorite places in Milan. The collection of rare and unique pieces that Mauritzio curates is unreal. A great place to find wonderful objects for your home."
Da Giacomo Restaurant
Photo: Da Giacomo
"A classic Italian restaurant with delicious food in a chic environment. The pistachio-colored walls are a favorite of the the fashion crowd. Everyone also loves a dessert called "La Bomba"-- it's a must-try."
Bernardini Luxury Vintage
Photo: Bernardini
"One of my all time favorites. A great place to find very unique items that you can't find anywhere else on the globe, like rare Hermes and Gucci pieces along with the best selection of the rarest watches in the world."
Langosteria 10 Bistro & Botega
Photo: Langosteria 10
"My absolute go-to restaurants for fish. The seafood is always fresh and they find some truly interesting ways they cook it. Plus, it caters to a very hip and cool italian crowd. Get the sandwiches…delish!"
Peck Market
Photo: Peck
"The best, and absolute chicest, Italian supermarket. They have a great restaurant on the second floor and a fabulous wine selection in the basement."
Obika Mozzarella Bar
Photo: Obika
" An incredible mozzarella bar with breathtaking views of the Duomo -- it's a great place to hang out and take in all of Milano."
Snag Milan Style