Bella Hadid's Affordable Winter-Storm-Ready Jacket Is Still Available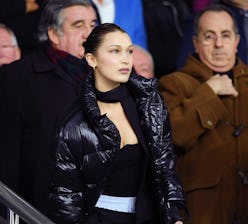 Equal parts dramatic and polished, Bella Hadid's style is forever on point. Her looks range from daring couture gowns to bold athleisure. While she's established a signature vibe, the It model always keeps us guessing. Most recently she walked straight out of Paris Fashion Week into a UEFA soccer game wearing the perfect winter-storm jacket from affordable retailer Aritzia. While she looks great with it styled over a bustier top and track pants, we'd recommend styling yours with a chunky knit, leggings and snow boots for the impending East Coast thundersnow. Shop the coat here, then continue on for more of her best outfits to date.
In An Aritzia Jacket
In Chanel
In New York City, 2017
In Roberto Cavalli Dress, Bulgari Jewels And Stuart Weitzman Heels
At Bulgari's opening in New York City, 2017.
In A Dolce & Gabbana Dress And Stuart Weitzman Heels
On her 21st birthday in New York City, 2017
In Claudia Li And Stuart Weitzman Boots
In Paris, 2017
In A Claudia Li Jacket And Roberi & Fraud Sunglasses
In Paris, 2017
In A Claudia Li Coat
In London, 2017
In A Claudia Li Blouse And Jeans
In New York City, 2017
In A Dilara Findikoglu Jacket And Stuart Weitzman Boots
In Paris, 2017
In Alexandre Vauthier Tuxedo Pantsuit And Roberi & Fraud Sunglasses
In Paris, 2017
In A Sami Miró Skirt Suit And Linda Farrow Sunglasses
In New York City, 2017
In A Grlfrnd Denim Skirt And Dolce Vita Heels
In New York City, 2017
In A Chanel Belt
In New York City, 2017
With A Stalvey Bag
In New York City, 2017
In Re/Done Levi's Shorts And Dear Frances Sandals With A Jason Stalvey Bag
In New York City, 2017
In Frame
In Good American Jeans With A Dior Bag
In New York City, 2017
In A Plaid Set
At Fendi Show in Paris, 2017
In Giambattista Valli
At the Vogue Foundation Dinner during Paris Fashion Week, 2017
In An I Am Gia Top And Skirt
In Paris, 2017
In Dior
At the Christian Dior, couturier du rêve exhibition launch in Paris, 2017
In A Reformation Jumpsuit
In Paris, 2017
In Cinq à Sept Pants And Roberi & Fraud Sunglasses
In New York City, 2017
In Off-White
At the 2017 CFDA Awards
In Roberto Cavalli
At the Fashion for Relief event in Cannes, France, 2017
In Roberto Cavalli Couture
At the Chopard "Space Party in Cannes, France, 2017
In A Rat & Boa Dress
In Cannes, France, 2017
In An Area NYC Set And Olgana Paris Shoes
In Cannes, France, 2017
In Roberi & Fraud Sunglasses And A Givenchy Handbag
In New York City, 2017
In A Made Gold Denim Jacket
In New York City, 2017
In Alexander Wang
At the Met Gala in New York City, 2017
In Adam Selman
In New York City, 2017
In Christian Dior
In London, 2017
In An Alyx Denim Set And Stuart Weitzman Boots
In New York City, 2017
In A Denim Two-Piece And Alyx Heels
In New York City, 2017
In Dior
In Paris, 2017
In Baja East
In Paris, 2017
In Stuart Weitzman Boots And Carrera Sunglasses
Leaving the Chanel Couture show in Paris, 2017
In A Tommy Hilfiger Puffer Jacket
In New York City, 2017
In Alo Yoga Leggings
In New York City, 2017
In Julien Macdonald
With sister Gigi at the Victoria's Secret Fashion Show, 2016
In A House Of Harlow 1960 x Revolve Genn Faux Fur Coat
In New York City, 2016
In Fannie Schiavoni
In New York City celebrating her 20th birthday, 2016
In Versace
In Milan, 2016
In Alexandre Vauthier
In New York City, 2016
In Hugo Boss
At the GQ Men of the Year Awards, 2016
In Pierre Hardy Sneakers
At Fashion Week Australia in Sydney, 2016
In Nike
In New York City, 2016
In Givenchy
At the Met Gala in New York City, 2016
In Atsuko Kudo
At the Met Gala after-party in New York City, 2016
In Julien Macdonald
At the Elle Style Awards in London, 2016