Alexa Chung Just Teamed Up With This Brand, And It's Totally Unexpected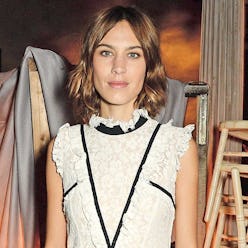 Ugg is having one heck of a season. Between its recent collaboration on a hybrid shoe with Teva (call it the Tevugg/Tugg) and being featured on the runway at Preen by Thornton Bregazzi during London Fashion Week, the brand is bigger than ever. It's even appointed a new art director in the form of model and TV presenter Alexa Chung, who announced the news on Instagram with a sneak peek of the campaign celebrating the launch of the Classic 2.0 boot.
Along with photographer Ben Rayner and stylist Stella Greenspan, Alexa took a step away from the traditionally outdoorsy Ugg vibe and incorporated the brand into the everyday lives of city girls, like actress Coco Baudelle and poet Cleo Wade, who made appearances in the shoot.
"I wear Uggs pretty much every day in my house in London, and also when I'm in New York—my uniform is jeans, a navy jumper and the classic short boot," Alexa said in an interview with Vogue. "I have a lot of really good friends in the East Village who I thought were quite interesting: strong, independent women with sick style—and they have amazing apartments to match. We just thought about exploring their environments and personalizing what Uggs might mean to them."
Since moving to the city, Alexa said she's come to understand how to find pieces that work from day to night, and to accept that flats are our friends. (Because, really, who can walk more than two blocks in stilettos?) And, unlike some celebrities, whose walk-in closets are equivalent to the sizes of our shared apartments, she relates to our eternal struggle of balancing fashion-junkie status and limited shoe storage.
"I decided to make the rest of my apartment a thing and lined the walls with rows of shoes," she said. "I just embraced the idea that, because everyone has a small apartment in New York City, they'd understand that mine is basically a glorified wardrobe."
The British icon is no stranger to design collaborations. She's already joined forces with Madewell, AG and Marks & Spencer. as well as revealed the launch of her own clothing line in March. We can't wait to see what this fashionista does next.