Celebrate Every Mother In Your Life This Holiday With 9 Jewelry Styles As Elegant As They Are
From understated charm necklaces to customizable ring sets.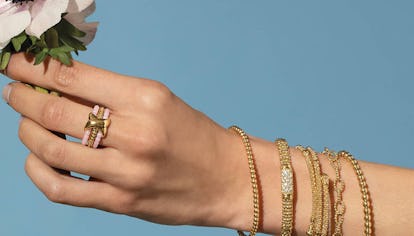 Mother's Day is on the horizon, which means it's time to start thinking about the perfect gift to celebrate the moms and mother-figures in your life. While a gorgeous flower arrangement can brighten up anyone's day, the timeless gift of jewelry is hard to top. Whether it's a necklace, a ring, or a pair of earrings, once it gets into the recipient's hands, jewelry becomes something significantly more than a stunning accessory. It can transform into a signature style piece, a good luck talisman, or a nostalgic memento of that specific time in the person's life. That's why it's important that the jewelry you give is elegant, finely crafted, and in a style that they'll always remember.
For Mother's Day, we've partnered with LAGOS to find the right piece for the mom you adore, no matter what stage of life she's in. Whether it's a bold pair of earrings for your eternally stylish sister-in-law, a necklace that will become your mom's most cherished accessory, or a baby-proof smartwatch band for your best friend who just became a mom, LAGOS has you covered.
Ahead, you'll find ideas for the perfect jewelry piece to give that special mom in your life this Mother's Day.
The Elegant Mother
If your mom is the kind of woman who appreciates a timeless piece of jewelry that she can wear on a special occasion, she'll love LAGOS' Luna Pearl necklace — an updated version of the classic style we all know and love. If she'd prefer something that she can easily wear alongside her watch and other wrist favorites, a simple sterling silver beaded bracelet is a great choice. Moms who love a good pair of earrings will adore the Love Knot drop earrings which feature 18K gold and sterling silver in a stunning knot design that will symbolize your unbreakable mother-daughter bond. Not to mention, they are the easiest way to elevate a simple jeans-and-tee look.
The New Mom On-the-Go
Your best friend has always been someone who's obsessed with jewelry, but she might be wary of wearing some of her most prized pieces. Opt for pieces that the baby won't be able to pull off easily, like the Smart Caviar watch bracelet, which she'll love for its practicality as much as its ultra-chic design. A stacking ring set is also a great choice, as it comes in a variety of colors that can be switched out to match her outfits. It's the perfect way to express her personal style, even when she's busy with her little one.
The Trend-Loving Sister-in-Law
Your sister-in-law has never been understated when it comes to her style. The Color Switch earring set will allow her to customize the pair according to her outfit or her mood. And if she loves wearing multiple necklaces, the gold Love Knot pendant is a wonderful starting point for a fabulous layered look.
This article was originally published on